As he ends his racing career for the second time, Michael Schumacher will not be remembered as the greatest F1 driver ever. He will be remembered as a driver who made a comeback and made a mistake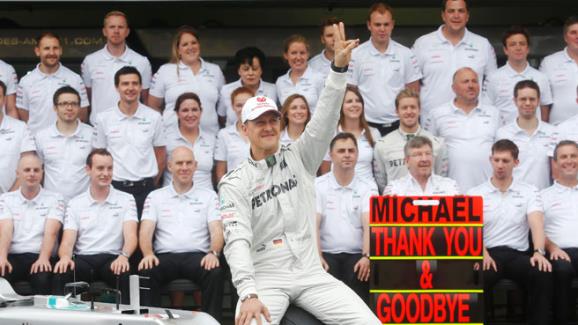 As a child I always had a soft spot for sports. Maybe it was because I wasn't too good with my books, but then who cares. I loved playing football, basketball, volley ball, cricket, table tennis, badminton, swimming… the list can go on and on.
But yeah, though I wasn't great at these games, there was one thing that always amused me. And how I doted and admired my peers and seniors who were fearless and defied sportsmen spirit.
I loved to watch the brawn seniors, you know, fight among themselves, when they conceded goals or runs and how they lauded the juniors when they showed talent.
When I joined college, I started closely following Formula One in the late 1990s and yes, I adored Michael Schumacher for his brilliance on the track. I watched almost every race that he drove and used to feel upset when he lost one.
I enjoyed watching him overtake race leaders. I also tried to guess what strategy Ferrari would adopt to make sure that Schumi rises to the lead and ends at the top of the podium, I could guess only a few.
Later, when I started my career as a journalist, my interest in F1 gave me an opportunity to write about the sport. I used to mostly write previews and reviews about races. I remember writing a piece on whether India would ever host Formula One races. This was way back in 2002. And nine years later, I saw my first ever Formula One race live at the Buddh International Circuit in Noida on October 30, 2011.
There was another article that I wanted to write, when Schumi announced his retirement from Formula One racing in 2006. I was so proud of him for doing that. Just imagine, a man at the peak of his career and he decides to make way for younger racers. I was in awe of him and wanted to pen a piece on the lines of "Now that's called sportsmanship"… and Schumi hangs his boots.
However, at that time, another colleague wanted to write something similar, so I let go of the idea and urged him to write the article instead… You see the sportsmen spirit rides with me.
Now lets come back to the present day. Though my sporting activities have reduced drastically, my penchant for sports and sportsmanship lives on.
Call it fate, but I never knew I would get the opportunity to pen my thoughts about Schumacher's retirement again.
Who knew he would make a comeback after retiring in 2006. May be the recession -- that hit the world in 2008 -- got the better of Schumacher and drove him to reenter F1 racing. God knows why he made the mistake of racing again.
No one will remember him as the greatest F1 driver ever. He will be remembered as a driver who tried to make a comeback and it spell-doomed for him. The ridiculous results -- after his comeback in 2009 -- will hit Schumacher in the face till he regrets making the biggest mistake of his life of returning to racing.
Imagine my plight, I used to always compare Tendulkar and Schumacher and say "Only if Tendulkar had sportsmanship he would have retired at the height of his career", just like Michael Schumacher and Zinedine Zidane did. I would always say that a player should retire with dignity or will have to be booted out like Sourav Ganguly.
Now, that Schumacher has yet again retired from F1 racing, I pray that this time he hangs his boots for good. Amen. 
Jerome Anthony
With over 11 years of experience in journalism, both in India and abroad, Jerome has accumulated vast and varied experience in different facets of journalism. He has covered topics ranging from glamour to sports to aviation and almost everything in between. Here, he puts his two cents on the forgotten Michael Schumacher.