From Scoop to Super Exclusive
exclusive [ik-skloo-siv]
- noun
A piece of news, or the reporting of a piece of news, obtained by a news organisation, along with the privilege of using it first.
scoop [skoop]
- noun
A news item, report, or story first revealed in one paper, magazine, newscast
Two words mean the same, but embody the thirty-year rift between journalism and the sensationalism called news today.

The third is what news channels are taking credit for these days.
Think 'scoop', think Watergate. Think 'exclusive', think mindless spy-cam operations, regular interviews and, of late, the watermark on screen: Times Now Exclusive, Sahara Exclusive, and, of course, Geo TV's Super Exclusive on Pakistan's match fixing scandal.
Bob Woodward and Carl Bernstein must be thinking what happened to news. But, today, who cares?
As long as people watch, as long as the money keeps flowing in, news editors are happy to dish out what they think the viewers want to see. Even duping them for that extra eyeball.
When in doubt, question mark.
No editor will want to admit someone else got the 'scoop/exclusive'. Oneupmaship drives news channels today. If Channel A says 'Exclusive: Blast in Bangalore', Channel B says 'Exclusive: Terrorist Hand Behind Blast?'
Speculation is news today.
The sad part is, we can't do without news. And if the media continues on its journey to mediocrity, the viewer will too, for lack of options.
Media, especially television news, needs change. We owe it to the people.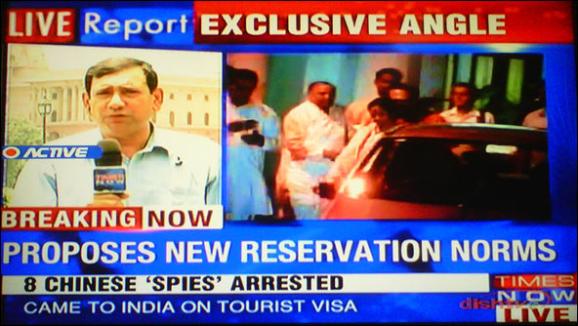 UPDATE


angle [æŋ.ɡl]
- noun
An aspect, as of a problem, seen from a specific point of view

Seen on a prominent news channel today (June 13, 2012) — the 'Exclusive Angle'. In essence, the editors at said channel have taken credit for, wait for it, thinking!

Just when you thought Indian news could not get any worse. 
Dipankar Paul
Dipankar has a keen interest in what's happening in the world around him. Having started his career in television, he has now turned his focus to the future of news -- the internet. When he's not thinking of ways to improve the way the Indian news industry works, Dipankar is a gourmand, photographer and writer -- not necessarily in that order.